Click here for printable version
W
elcome to the Summer 2006 issue of the Middle-Market Metrics, Dresner Partners' quarterly report on the middle- market transaction environment. M&A activity in the middle market has remained quite strong, both in terms of transaction volume and valuations, driven by motivated strategic buyers and highly liquid financial buyers. The market continues to be segmented by size and industry, with larger deals and companies in certain non-cyclical industries commanding premium valuations.
We believe that our M&A activity at Dresner is representative of the lower end of the overall middle market. We are currently working on transactions ranging in size from $25 million to $150 million of enterprise value, including buy-side and sell-side opportunities. Industries range from metal fabricators and component manufacturers to business services and healthcare. We have several transactions under letter of intent, and several transactions in various stages of marketing. We expect to close a significant number of transactions this year, which would be consistent with forecasts on the Street for record M&A activity in 2006 throughout the global economy.
Many clients ask: "How far will the M&A bull market run?" Gazing into our crystal ball, we tell them markets are cyclical. "So when will this cycle peak?" they continue. If we knew the answer, we would be printing money over at the Chicago Mercantile Exchange. Seriously, while we have had a perfect confluence of a strong economy and highly liquid capital markets, we also have risks to the macro-economy which could adversely impact the cozy little world of middle market transactions. These risks include (but are not limited to) rising interest rates, high energy prices, accelerating inflation, deficit spending and global instability. That being said, Chicken Little isn't selling many DVDs these days, and no one is expecting the sky to fall any time soon.
The good news is that the middle market tends to be more resilient than the market for $1 billion plus deals, in part because it is less dependent on public stock market valuations. While we all remember the dark days of 2001-2002, we also know that our market bounced back quickly and we have been the beneficiaries of 3 ½ strong years of M&A activity. We also know that there is a tremendous amount of capital – both equity and debt – looking for a home in middle-market companies, which should help buoy our market even as the macro economy continues to slow. That being said, we all need to be aware of the risk that high valuations and aggressive leverage will doom some transactions in a slowing economy. In the long run, this will restore discipline to the market, but in the short run, it could create some dislocations as well.
So what's our advice for the dog days of Summer 2006? Act while conditions are favorable. Standing still in a strong market is equivalent to falling behind. Businesses tend to spiral up or spiral down. The middle market is healthy, and transactions can still be consummated at reasonable valuations and with attractive leverage. So whether you're a buyer or a seller, we encourage you to explore opportunities to build value through acquisitions or harvest value through divestitures. Our valuation and consulting practice is busier than ever assisting business owners in assessing value and formulating the appropriate strategies for this market environment.

Sector Focus:

Healthcare Services
By Ejaz Elahi, Director, Healthcare Group
Healthcare services—acute care (hospitals), long-term care (nursing homes, assisted and independent living facilities, home health), and outpatient and ancillary services providers (e.g. renal dialysis, rehabilitation, diagnostics and outpatient surgery)—represent an annual M&A transaction volume of approximately $50 billion. After falling to a historical low in early 2003, transaction volume has steadily recovered and is approaching pre-1997 levels (before the passage of the Balanced Budget Act). Recent trends in heightened transaction volume are being driven primarily by:
Accelerated consolidation in certain sectors such as long-term care (including home health), acute care and diagnostics, in part due to irrational market structures

Ø

Historically low returns on debt and equity due to highly liquid capital markets
The backdrop to the above trends is a combination of:
Positive long-term demographics— an aging population with unprecedented healthcare needs

Ø

A general repositioning of the healthcare delivery model to alternate sites, i.e. outside the hospital setting, as well as an emphasis on prevention and wellness

Ø

Continued uncertainty in reimbursement trends—the Deficit Reduction Act of 2005 and the Medicare Prescription Drug Improvement and Modernization Act of 2003 both have aggressive provisions for reducing growth in Medicare and Medicaid spending–– and increased scrutiny of governance practices

Ø

Emergence of a market-based model—a shift of the cost burden to the consumer with a resultant enhancement in consumer choice
Overall, the healthcare services sector has a decidedly positive long-term market perception, as suggested by the performance of public healthcare companies compared to the S&P 500 Index over the last five years.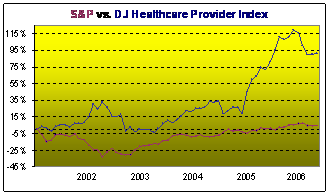 While the macro trends are clear, specific sub-sectors exhibit valuation metrics that are sensitive to specific factors. For example, multiples in long-term care are being driven by positive demographic trends, while those in dialysis are typical of an industry in late-stage consolidation. Similarly, multiples of ambulatory surgery and hospital companies show a shallow decline due to uncertain reimbursement and regulatory trends. The six charts below show historical trading multiples for several of the sectors actively tracked by Dresner.
Dresner Partners believes that the healthcare services M&A market will continue to offer tremendous opportunity for providers, strategic participants and capital sources. Our Healthcare Group has advised participants across the full spectrum of the healthcare services sector in M&A, financing and strategic matters.